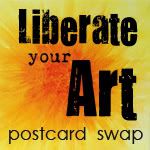 I recently participated in an incredible project called the Liberate your Art Postcard Swap organized by Kat Sloma. In exchange for 5 postcards that I created, I would receive 5 in return from participants all over the world! There were no rules for the postcards, it could be a collage, drawing, photograph...anything! You can read more about the actual sending process here.
When all was said and done, there were 175 participants, from 13 countries and 37 U.S. states - how cool is that? I had a very hard time choosing which photos to send & unfortunately I did not take a picture of which I sent. But I am hoping I will find out who received mine! They came one by one, and it was so exciting to check the mail everyday. Let me show you what I got:
::Postcard #1 - Marji in Seattle, Washington::
What a beauty, and it looks like something I might take doesn't it? She is going to school to study encaustic art & photography, and her Flickr name is RainCityGirl. Does this sound like someone I would be friends with or what? We even follow a lot of the same blogs so I am surprised we have never crossed paths. P.S. Marji - I LOVE Seattle, almost went to UW, love the rain and art & photography are kinda my passion. Yep! ♥ Thanks for the beautiful postcard I love it! Please visit her blog Sun Breaks in the Forecast and say hello, I know I will!
::Postcard #2 - Rosa in Scotland::
Isn't this postcard wonderful? Rosa grew up in Melbourne, Australia, and has also lived in Toronto, Canada, Hong Kong, & vacations in Scottland/UK. Wow! I think it is so amazing to connect through art to someone half-way around the world! On her postcard was written:
"Don't compromise yourself. You are all you've got." - Janis Joplin
What a powerful and inspiring quote, especially from one artist to another. And this is just how her website, Simple Mansion is...nothing but inspiration, encouragement, and positive thinking. Her one of a kind work of art is so unique and her creativity just shines through. Thank you for sharing your art with me Rosa!♥
::Postcard #3 - Ann in Kent, England::
Her blog, Poetic Mapping: Walking into Art combines her 4 passions of

writing, art, walking and music.

This beautiful postcard has a fascinating story behind it, you must read about it here!

Not only is she an incredible artist but she is striving to save to the world. That is lofty & trite expression, yes, but visit her blog and see what I mean.

This quote she posted says it all:
"How wonderful it is that nobody need wait a single
moment before starting to improve the world." – Anne Frank
Ann you are an inspiration and I am so happy have been introduced to you and your blog! Thank you for the postcard.♥
::Postcard #4 - Clara in Pennsylvania::
The 4th is a treasure from the opposite side of the country. Like me, her blog started as a place to document her life (she has 2 boys) to share with family, then it turned into a place to share her passion for photography. This photo is of the Statue of Chief Justice John Marhsall she took during a World Wide photo walk. That sounds amazing - sign me up! She said although it was 99 degrees, it was a blast. She included this powerful quote on the postcard:
"To listen well is as powerful a means of communication
and influence as to talk well." - John Marshall
::Postcard #5 - Colorado Springs, Colorado::
Unfortunately, the location is all I know! She has a website but it says she has retired. Written on the back is "The Mysterious Series" - pretty fitting yes? I believe her name is Angela but I am not positive. Whoever you are, thank you for the beautiful postcard! ♥




::Postcard #6 - Bonus from Kat in Oregon
Look at that blue - so beautiful!! You can check out all her photos at her blog:
The Kat Eye View of the World
. Thanks for all the hard work Kat! ♥
This was such a joyous project to be a part of. I love to see how different everyone's style of art is, how every postcard was from a different part of the world, the different styles of handwriting, and what message they chose to impart. It was such a wonderful way to connect with other people who I otherwise would have never met! There will be a 2012 edition that I will most definitely not miss!